Kaleidoscope Artistry by Timothy Krause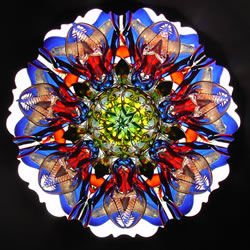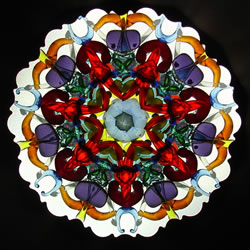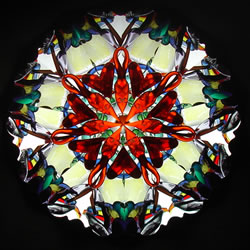 Artist Proof Collection 2008
This collection of Artist Proof kaleidoscopes represents distinction in style, function, form, colors, and technique. Each of the kaleidoscopes are unique and feature the highest quality in craftsmanship and materials. None of these scopes will ever be duplicated.
The artist has been known for his stained glass "Brewster's Cove" lighthouse kaleidoscopes, as featured in Cozy Baker's book, Kaleidoscopes, Wonders of Wonders. This recent body of work reveals his love of wood and the wood turning process.
---
Artist Proof : Number 18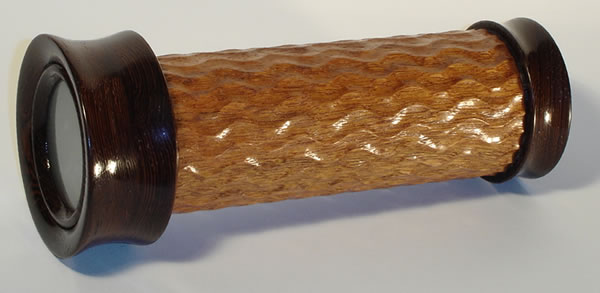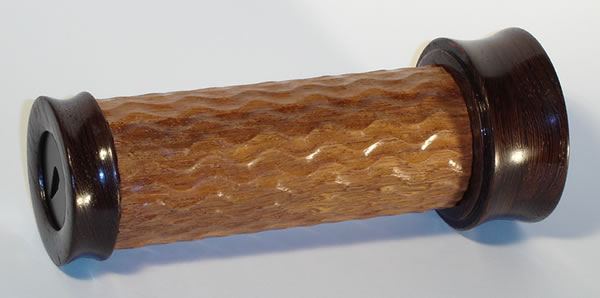 The scope measures 8 3/8 inches tall by 3 3/8 inches wide at the object cell end and 2 1/2 inches at the eye piece. The straight body is 2 1/2 inches in diameter with 24 shallow wavy coves carved into the side of the body. The wood used for the scope is Tali and the darker wood is Wenge. The scope has been finished with six coats of hand rubbed oil and finally buffed with a new three stage buffing system to provide a smooth finish.
The freely rotating dry object cell contains over 40 pieces of lampworked glass objects and fused pieces to provide a never-ending change of colors and patterns. The artist believes that only real glass items that have been masterfully worked in the flame can create the same rich jewel tones, textures and color blends that this scope delivers.
The object cell end is accomplished by cutting, mitering and gluing 18 pieces of wood together to achieve the final results. This technique is called segmented woodturning and can only be accomplished by master woodworkers.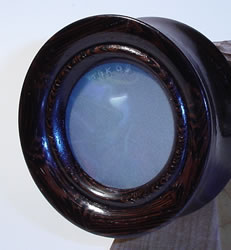 The mirror system in this scope is a 7 point mandala with a simple mask that creates a very interesting border around the mandala. A new style of teardrop eye hole combined with a magnifying lens really highlights the quality of the lampworking.
All of the sample interior images shown here are from this scope. The pictures are very close, but they do not capture the true beauty, scale and variety of the images that this kaleidoscope is capable of. You will not be disappointed!
Additional internal images can be seen at - www.artscopes.com/ap_2008/number18/imageindex.html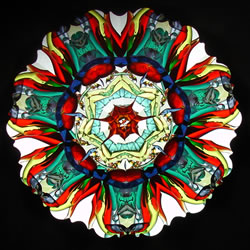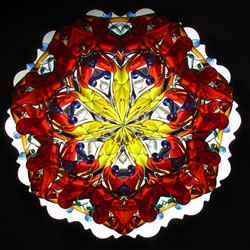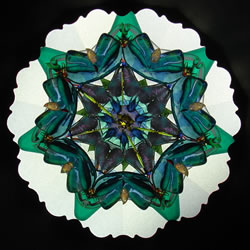 ---
Shipping: $14 flat shipping fee for this Kaleidoscopes via Insured US Postal Priority Mailing Services only. I will ship all items Monday - Friday either same day or next day after the receipt of your payment. International shipping is now available via Insured US Postal International Priority mailing services. Buyer pays actual shipping cost.
Payment: PayPal is my only accepted payment method.
Return Policy: In the unlikely event that you are not happy with your new kaleidoscope, I will refund your purchase price. The buyer is responsible for returning the item in good condition within 7 days and pays for all insurance and shipping charges.
---
Thank you for looking and Good Luck Bidding!