Kaleidoscope Artistry by Timothy Krause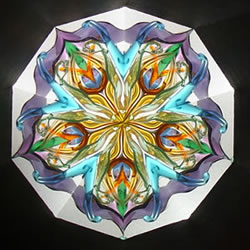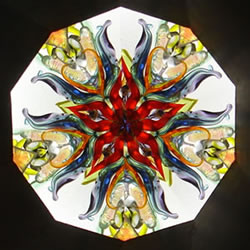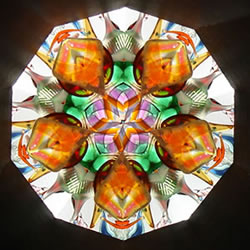 Artist Proof Collection 2006 - 2007
This collection of Artist Proof kaleidoscopes represents distinction in style, function, form, colors, and technique. Each of the twenty-five kaleidoscopes is unique and features the highest quality in craftsmanship and materials. None of these scopes will ever be duplicated.
The artist has been known for his stained glass "Brewster's Cove" lighthouse kaleidoscopes, as featured in Cozy Baker's book, Kaleidoscopes, Wonders of Wonders. This recent body of work reveals his love of wood and the wood turning process.
---
Artist Proof : Number 19 - SOLD


The deep rich colors included in this kaleidoscope are simply stunning! With interesting textures and blends, it seemed only fitting to simplify the image to it's purest form. That is why the artist chose the 5 point Mandala image for this scope.
This kaleidoscope is also a unique departure from round bodied kaleidoscopes. The two flat sides carved into the body makes this scope very easy to handle in any position.
Careful thought was given to the grain facing of the Leopard Wood during construction. This technique really brings out the large flakes in the grain that few woods have.

The scope measures 11 3/8 inches tall by 3 3/8 inches wide at the object cell. The tapered body is an average of 2 3/4 inches in diameter with a 2" hand hold. The scope is made from Pau Amarello also known as Yellowheart and the darker wood is Leopard Wood and then finished with six coats of hand rubbed oil.
The dry object cell freely rotates the 32 pieces of lampworked glass objects to provide a never-ending change of colors and patterns. The artist believes that only real glass items that have been masterfully worked in the flame can create the same rich jewel tones, textures and color blends that this scope delivers.
The object cell is accomplished by cutting, mitering and gluing 18 pieces of wood together to achieve the final results. This is a true study in joinery precision that can only be accomplished by master woodworkers. It's fascinating to see how the wood changes color tones depending on the light.
The mirror system in this scope is a remarkable 36 degree, 5 point Mandala that really highlights the quality of the lampworking. The focal length for this scope is a full 10 inches with slightly over 1-1/4 inch wide mirrors. The image is further enhanced with a magnifying lens for easy viewing. Don't miss out on adding this one to your collection.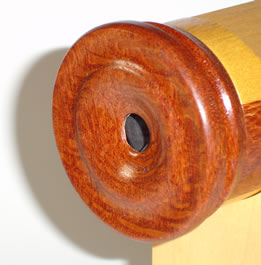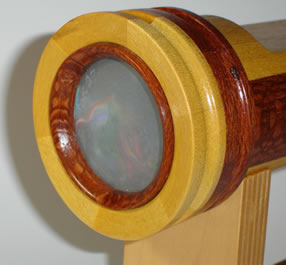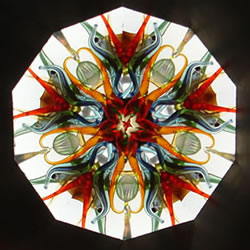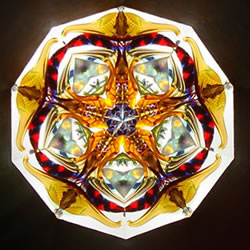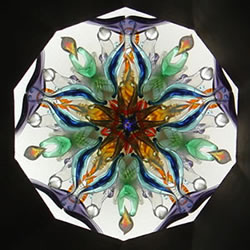 All of the sample interior images shown here are from this scope. The pictures are very close, but they do not capture the true beauty, scale and variety of the images that this kaleidoscope is capable of. You will not be disappointed!
Additional images may be seen at www.artscopes.com/number19/imageindex.html